Marina Go is GM of Hearst-Bauer, publisher of Harper's Bazaar, ELLE and Cosmopolitan. She is also chair of the Wests Tigers, a director of Odyssey House McGrath Foundation and a member of the advisory boards of the Walkley Foundation, The Remarkables Group and Women's Agenda. She has an MBA from The AGSM and is a member of the AICD.
Marina, what was your memorable 'aha' moment that landed you where you are now in your career?
It was probably when I was in the final year of my MBA and suddenly I could see very clearly that the media industry was facing a structural challenge that it wasn't nearly ready for. That was when I made the decision to pursue a career in management rather than content creation.
Do you think it is valuable for women to have a mentor or business coach? If so, why.
Absolutely. Most women lack confidence, even when they are the most skilled and capable person by a country mile. Mentors assist in boosting confidence.
What is your biggest 'if only' moment – when you thought 'if only I'd done this instead'.
Early in my career I was offered the opportunity to launch an exciting new division within one of the big four media companies. I still have the unsigned contract. I remained where I was out of misguided loyalty as that company eventually let me down.
What advice do you give women who suffer from imposter syndrome or suffer a lack of confidence?
I suffer from that too, still. You have to tell yourself to say yes to any opportunity that is out of your comfort zone and a promotion and then work it out later. That's what men do.
What apps or websites can't you live without?
My app use is pretty practical: I do all of my banking via apps, access social media and listen to my music playlist that way. As I am the Chair of Wests Tigers, the Wests Tigers NRL app is essential during the season.
What advice would you give yourself 20 years ago?
Back yourself and find a mentor early.
A website, book or resource that has helped you in your career or inspired you and why?
Who Moved My Cheese? By Spencer Johnson.
Winning by Jack Welch
Competitive Strategy by Michael Porter.
Each of those books provided me with a greater insight into the relationship between internal and external forces, and that the ability to adapt to change is key. I do my best work in environments of rapid change.
Take a picture of one thing you can't live without – could be a laptop, coffee, pen, family member, pet (anything)
I can't live without my sons Jackson (left) and Lachlan.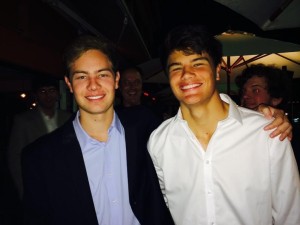 NEW ONLINE COURSE:
Social Media 101 for Councillors
Are you a Local Government elected member keen to improve your social media presence?
Leave your email to get early bird prices and the latest course information
Thank you for your interest - keep an eye out for the discount code for early bird pricing and further course information.