Professional mentoring: what is it - and what's in it for you?
We tend to think of career mentors as guides for young people figuring out their future or putting that first-foot on the corporate ladder. However, chances are you can benefit from mentoring no matter who you are, what you do and where you are in your career.
As a professional mentor, Janine's role is to work side-by-side with you to tap into that inner voice, unlock your skills and empower you to use them. Whether you're a corporate climber, an aspiring entrepreneur or a leader shaping others, Janine uses an intuitive, holistic approach to help you to hone in on your unique strengths and enrich your professional life.
Janine offers a tailored mentoring packages over Skype, or in person if you're based in Sydney or Melbourne. You'll also benefit from email support for the duration of your program, as well as weekly check-ins.
More mentoring options
Click on one of the below to find out more
Corporate Achievers
Whether you're a graduate looking to hit the ground running, or an established corporate professional looking to take your career to the next level, professional mentoring is the key. Janine will show you exactly how to ask for what you're worth - and get it.
As a branding expert, Janine knows that your personal brand can be the catalyst for skyrocketing to the top - or the deadweight keeping you trapped on the ground floor. She'll teach you how to cultivate a powerful brand and position yourself as a highly valuable asset to any business.
Business
Owners
As a business owner, you put your heart and soul into your work. With so much to keep track of, it can be hard to maintain a clear vision for your business. Janine can help you to find clarity and direction, and build a sustainable business. 
A lover of all things digital, Janine will teach you everything she knows about creating an impactful online presence for your business. Janine will work with you to develop a strong brand and a powerful voice. You'll be able to communicate your unique value to your customers, positioning yourself as a credible leader in your industry and become an enviable advantage over your competitors.
Teachers and Parents
The next generation of communicators are growing up in a fast-changing digital landscape that brings challenges. Social media. Cyber bullying. Data security. How do we find the sweet spot between empowering them and keeping them safe?
Janine mentors parents, teachers and youth leaders on the unique challenges our children face in the digital world. Topics range from digital literacy to how to become effective communicators online and offline, and life skills - how to prepare for interviews, make connections and leave lasting positive impressions.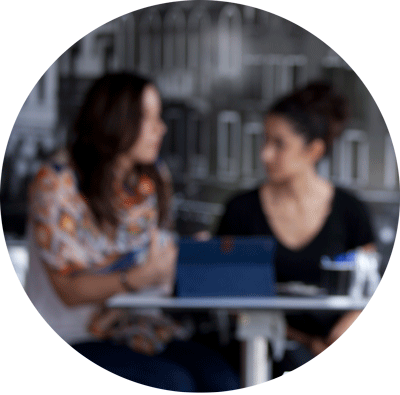 So what kind of results can you expect?
Janine's impactful mentoring program will:
Help you to gain clarity, focus and direction.
Work with you to develop meaningful goals and the strategies to achieve them.
Guide and support you as you work towards your objectives.
Connect you with your intuition and build your self-confidence.
Offer a fresh perspective on challenges and roadblocks.
Keep you on track and hold you accountable.
"Can I pick your brain?"
This is a question coaches hear a lot!
While they don't necessarily need mentoring or coaching, many people see the obvious benefit in asking coaches for a little professional advice. This typically relates to a specific situation or a one-off challenge, one that can be overcome with an experienced perspective and a nudge in the right direction.
Want to learn more about professional mentoring?
Contact Janine today to discuss how a bespoke mentoring package can help you to take your career or your business to the next level.