Government agencies around the world are becoming more confident in using social media and, in many instances, are leading the way over their private-industry counterparts with their innovative content and community engagement.
It's obvious now that social media is an invaluable tool for government to promote their brand, connect with communities and customers, and engage in conversation. Understandably, too, social media presents a number of risks unique to government and this can hinder how creative they can be online.
However, there are some government departments dominating this space that are dishing up clever content that is perfect mix of entertaining, informative, valuable and engaging.
So without further-ado:
Here are five Australian government departments doing great work on social media.
Just a quick note: this selection is not based on the number of followers these departments have, but rather how they promote content that solidifies their brand, purpose and connections online.
WHO: NSWPolice
WHY: They cleverly inject humour into an otherwise non-humorous topic – law enforcement. Their posts are a well-balanced mix of topical news, crime updates, call-outs for citizen collaboration and entertaining posts that quintessentially reflect their role in society. Their standout work has even been picked up by the media with their 'Meme Team' being interviewed recently.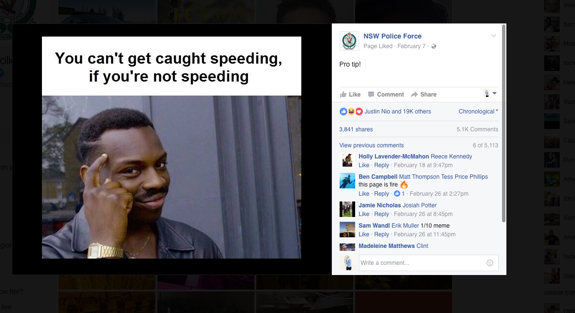 WHO:Tourism Australia
WHY: With more than 2.6 million followers on their Instagram, Tourism Australia uses breath-taking pics of Australia to fulfil its purpose – to promote (amazing) Australia. The ingenious part of their social media strategy is that the majority of their content is curated, which is not only great for their fan engagement but also economical.
WHO: SA HEALTH
WHY: Promoting 'health' in a fun way is tough, however SA Health do a stellar job with their rich mix of content that includes informative memes, staff highlights, animated video and interviewing their local community on contemporary health topics. Note their exceptional work, especially if you're in the health cluster.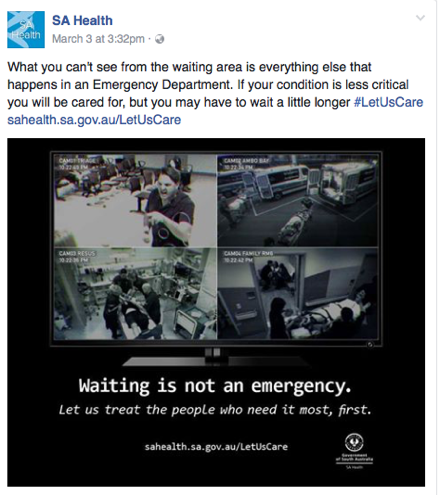 WHO: Bureau of Meteorology
WHY: Weather will always be newsworthy currency – we'll always need to know about it rain, hail or shine – and the Bureau of Meteorology (BOM) have gone beyond just sharing bare-essential information. They make weather fun with their diverse and dynamic social media content. They promote fans' weather-related images, have behind-the-scenes videos of their control rooms, post media releases, promote partnerships, volunteer profiles and more. They also don't 'spray and pray' the same message across their social accounts – on LinkedIn, for example, they publish staff profiles, latest research papers and conference announcements.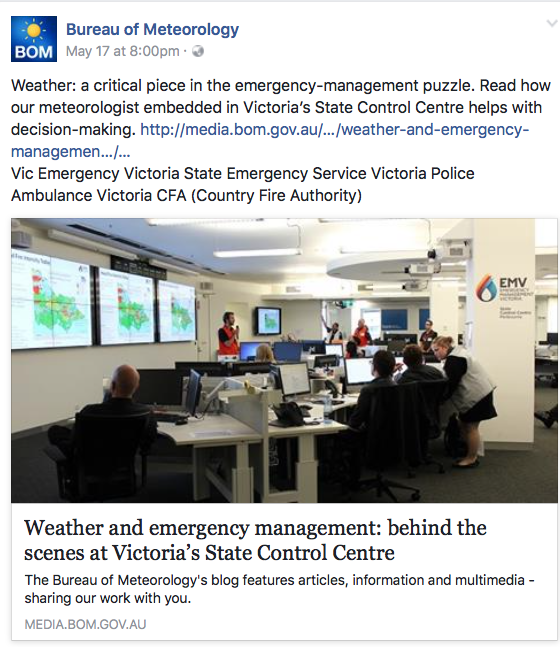 WHO: Redland City Council
Why: Without a doubt, their content reflects their purpose – to serve the residents of Redland. They encourage residents to promote their Redland pics using #redlandsanyday, have ample videos on their Facebook page featuring staff interviews, events and more, and keep their residents up-to-date with city matters like planned works, closed sport fields, traffic disruptions etc. Again, their content differs across their social accounts with Twitter seemingly being used as a 'media centre' with a flow of  news tweets ranging from council meetings to road closures.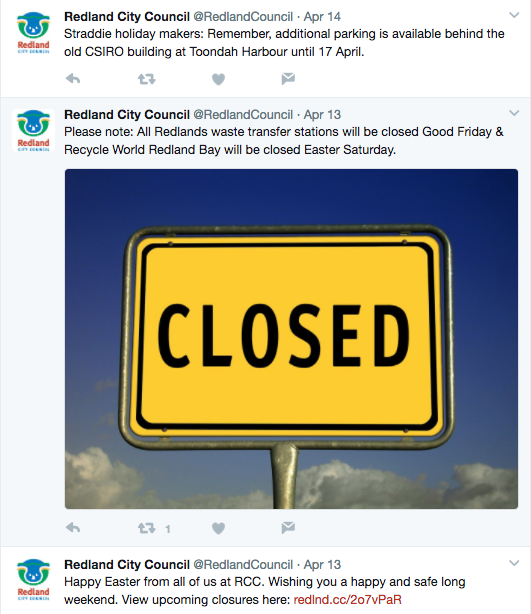 What government agencies do you follow for inspiration? Let us know below.
NEW ONLINE COURSE:
Social Media 101 for Councillors
Are you a Local Government elected member keen to improve your social media presence?
Leave your email to get early bird prices and the latest course information
Thank you for your interest - keep an eye out for the discount code for early bird pricing and further course information.